1. Focus On Energy Savings
R32 Hybrid systems are renowned for their exceptional energy-saving capabilities, making them a smart choice for modern buildings. One of the key advantages lies in their heat recovery functionality, which surpasses traditional chillers. These systems efficiently recover both heat and cooling energy from various zones within a building, ensuring no wastage.
Unlike conventional chillers, where the heat is typically rejected into the atmosphere, R32 Hybrid systems harness this valuable resource, further enhancing their energy efficiency and sustainability. This innovative approach not only reduces energy wastage but also contributes to a more environmentally responsible HVAC solution.
R32 Hybrid systems typically boast higher Seasonal Energy Efficiency Ratios (SEER) and Coefficient of Performance (COP) when compared to conventional chillers with electrical reheats on VAV solutions.
This translates to significant reductions in energy consumption and operating costs, leading to a more sustainable and environmentally friendly building operation.
2. Reduced Refrigerant Volume
Calculating the reduced refrigerant volume between the R32 Hybrid and the existing chiller can be a complex undertaking due to the different technology types involved. However, it's valuable to consider the R32 Hybrid as a "Deconstructed Chiller" that harnesses the advantages of VRF (Variable Refrigerant Flow) technology.
The key differentiator lies in the refrigerant itself. R32 refrigerant, utilised in Hybrid systems, boasts a significantly lower Global Warming Potential (GWP) compared to R410A, often used in traditional VRF systems. In fact, R32's GWP is approximately 66% less than that of R410A.
This substantial reduction in GWP showcases the environmental benefits of the R32 Hybrid when compared to traditional VRF systems. While the technology types may vary, the R32 Hybrid stands as an environmentally responsible choice, aligning with global efforts to reduce greenhouse gas emissions and mitigate climate change.
Regulated Phase Down of CO2 Emissions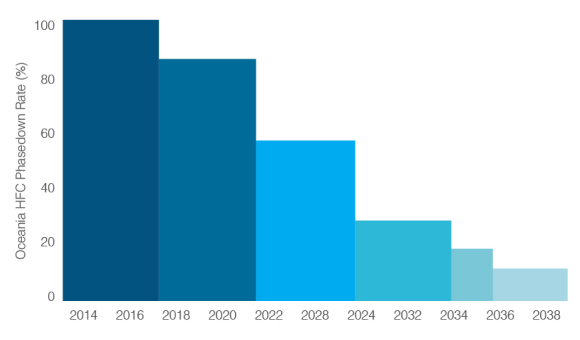 GWP is a measure of the warming potential as compared to CO2 which has a unitary GWP of 1. R32 refrigerant is zero ozone depleting and has a GWP 66% less than R410A.
For example, R410A will hold 2,088 times more heat when released in the upper atmosphere than the equivalent amount of CO2 would.
R32 refrigerant is being adopted by Mitsubishi Electric as an important step in the process towards the ultimate goal of a zero ODP, zero GWP, efficient, safe and non-toxic refrigerant.
3. Reduction of Ozone Depleting Potential Refrigerants (R32)
R32 Hybrid systems represent a significant leap forward in environmentally responsible HVAC solutions. These systems leverage R32 refrigerant, which has a remarkably lower GWP and zero ozone depletion potential compared to R22. This transition aligns seamlessly with global efforts to mitigate climate change and ozone layer depletion, notably supported by the Kigali Amendment to the Montreal Protocol.
New Zealand, as a signatory to the Kigali Amendment, actively participates in these global initiatives. By adopting R32 Hybrid systems, which offer reduced refrigerant volume and a more sustainable approach to HVAC, we not only ensure efficient heating and cooling but also contribute to a cleaner and greener future, in line with international commitments.
4. Better User Control/User Interface
R32 Hybrid systems offer a distinct advantage in terms of user control and user interface, greatly enhancing human comfort and convenience in the HVAC industry. One key highlight is their integrated control system that seamlessly connects all system components. This eliminates the need for expensive third-party controllers, a common requirement in chiller systems where different components, such as compressors, condensers, evaporators, valves, and all the third-party sensors, often necessitate separate controllers.
With R32 Hybrid systems, users benefit from simplified and streamlined control, which not only enhances user experience but also reduces complexity and costs. This integrated approach ensures that the system operates harmoniously, without the added challenge of managing multiple controllers for various components.
In essence, R32 Hybrid systems empower users with better control and user-friendly interfaces by seamlessly integrating control across critical components, sparing them the expense and complexity associated with separate controllers found in traditional chiller systems. This not only improves the efficiency of the HVAC system but also elevates the overall comfort and satisfaction of building occupants.
5. Peak Loading Reduction
Peak loading reduction plays a crucial role when comparing traditional chillers for cooling and electric reheats for heating against the R32 Hybrid with heat recovery capabilities.
In this scenario, opting for electric heaters for heating purposes proves to be a more expensive approach when contrasted with the heat recovery mechanism inherent in R32 Hybrid systems.
The R32 Hybrid excels in efficiently recovering heat from different zones within a building, making the most of the energy already expended for cooling. This heat recovery process not only reduces energy wastage but also translates into significant cost savings.
Importantly, the R32 Hybrid is capable of extremely high performance at low turn-down capacity, making it a more effective solution for times when not all the load is required, providing greater flexibility in building usage.